English-German-Russian
Translation Services
Home
Document translation
Interpretation
Web site translation
Payment
Contact us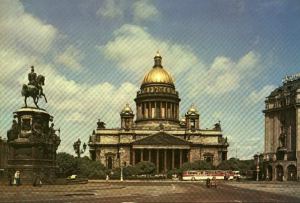 PETERSBURG TRANSLATION BUREAU is a specialized organization that provides English-Russian and German-Russian translation, localization, DTP and interpreting services. All of them are native Russian speakers and have graduated from Language departments of Russian universities. Apart from extensive translation experience our translators have background in other fields such as electronics, engineering, legislation, medicine, etc., so they can handle technical translation in any field of expertise.
Document translation. We translate any text you need. Business correspondence, Russian documents, private letters, complicated technical and scientific documents. We always double check our translation to guarantee the highest quality and to make sure the translation accurately and precisely reproduces the contents of the original (see Document translation).
We also provide interpreting and such services as localization and Web-site translation.
Please learn more about our new service: Translation for visas. All domestic Russian documents (birth certificate, marriage certificates, diplomas etc.) are translated in 24 hours.
Website translation. We'll translate you web site into Russian and provide you with promotional services in Russia. Please visit our Web Site Translation page. You can look at our finished works, translated websites:
Civil Law Center, IFT Poultry, Script Service Corporation.
If you plan a visit to Russia we can provide you with interpreting service. Our experienced guides will show you around our great city - St.-Petersburg. You can see some views of St.-Petersburg in the pictures of this site. (see Interpretation).
Please use our translations services from and into German.
Materials are accepted and delivered as e-mail attachments (in ASCII, MS Word, MS PowerPoint, MS Access, WordPerfect, Corel Draw, pdf, or any other format of your choice), or by fax. We can also do DTP of translated documents using appropriate software, e.g. MS office applications, FrameMaker, AutoCAD, PageMaker.
We accept credit cards online. Our payment system is completely secure.
Our e-mail:info@russian-translation.biz ; US fax: (206) 350-3808
Home
Document translation
Interpretation
Web site translation
Payment
Contact us
Copyright © 2003-2013 Petersburg Translation Bureau.